Find out who's coming and about other special events
---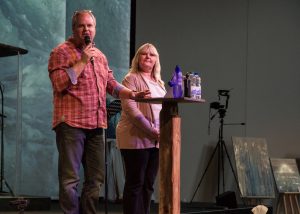 Alun Leppitt, a pastor, worshipper, songwriter, author and international speaker from England will be here in April for 4 events.
First, Alun and Donna will be at Wellspring Fellowship Sunday morning, April 15 at 10:30 AM
Sunday Afternoon, April 15 at 3 PM at Refuge Temple, Alun will be the guest speaker at the Worship Gathering; an event to prepare for the National Day of Prayer on May 3.
On Monday morning, April 16, @ 10:30 AM, Alun will speak at MHC Ministerial Association's meeting at SOVAH Health in the conference room (formerly Memorial Hospital) All are welcomed.  Alun's topic is "Promoting Community Prayer" Lunch will be provided following the meeting.
Monday evening @ 7 PM Alun will be back at Wellspring Fellowship for "Masters Class for Church Musicians" This class is for musicians, choirs, sound engineers, directors of music, pastors, basically anyone involved in worshipping the Lord. Please join us and glean from Alun's abundant experiences.
A bit about Alun and Donna:
Alun

is the founder of The Stirring, Southampton –  He's a worshipper, songwriter, author and international speaker. After Pastoring for 20 years, he and his wife Donna have been called to the nations with an emphasis on teaching and training the body of Christ in a naturally supernatural lifestyle especially healing, prophecy and worship. They love to strengthen, equip and activate God's people for love and good works and they travel regularly to many nations speaking in churches and at conferences.

Alun

  is passionate about leading people into life transforming encounters with God's tangible Presence and has many testimonies of people being healed, delivered and saved during time of worship. He has lead and trained worship teams and musicians for over 30 years to fulfil their calling, to serve with passion and purpose and to release the sound of heaven through unhindered and spontaneous worship. As a songwriter he was first published in 1993 by Kingsway's Thankyou Music, since then he has written, produced and arranged several albums including many songs for congregational worship.

Alun

is author of '

The Promise of the Presence'

(Restoring the Tabernacle of David).

Alun

and Donna have one amazing world changing daughter, Naomi. They are European Directors for Randy Clark's Apostolic Network of Global Awakening and they travel together internationally with a heart for relational connections and releasing the people of God in their kingdom identity.

---
National Day of Prayer, 7 PM at New College Institute.